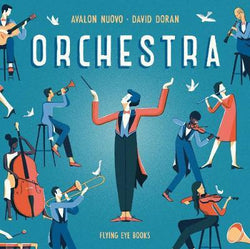 Login for wishist
A stunning illustrated guide to the orchestra, from the instruments that comprise it to some of the most ground-breaking composers and great modern works.
Before there were DJs, rock stars, pop groups and jazz trios... there was the orchestra. Whether it takes centre stage or brings performances and motion pictures to life, the orchestra is the magnificent original musical voice of the west. Learn about all of the ingenious instruments that make up the orchestra and the luminary composers whose work has endured for centuries. Travel from the Wiener Musikverein in Vienna to the world's greatest recording studios to see stunning orchestras in action, all illuminated by David Doran's stylish and immersive illustrations.
Picture books have the ability to evoke the essence of childhood — to allow us to see the world through a child's eyes and to feel the world with a child's heart. We hope you enjoy creating your own book traditions and growing your child's library filled with beautiful books for the whole family to enjoy!