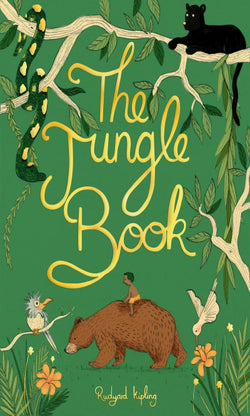 Login for wishist
The Jungle Book by Rudyard Kipling. 
The Jungle Book introduces Mowgli, the human foundling adopted by a family of wolves. It tells of the enmity between him and the tiger Shere Khan, who killed Mowgli's parents, and of the friendship between the man-cub and Bagheera, the black panther, and Baloo, the sleepy brown bear, who instructs Mowgli in the Laws of the Jungle. A rich and complex fable of human life, Kipling's enduring classic dazzles the imagination with its astonishing descriptive powers and lively sense of adventure.
These hardbacks are cloth-bound, with matching coloured end papers, embossed gold and coloured blocking to enhance their beautiful, bespoke cover illustrations. Dimensions: 178 x 129mm.
Picture books have the ability to evoke the essence of childhood — to allow us to see the world through a child's eyes and to feel the world with a child's heart. We hope you enjoy creating your own book traditions and growing your child's library filled with beautiful books for the whole family to enjoy!