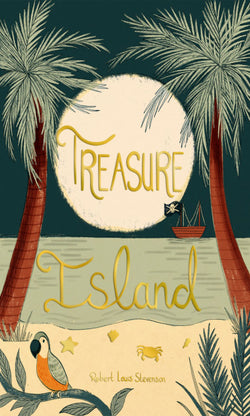 Login for wishist
Treasure Island by Robert Louis Stevenson. 
When a mysterious sailor dies in sinister circumstances at the Admiral Benbow inn, young Jim Hawkins stumbles across a treasure map among the dead man's possessions. But Jim soon becomes only too aware that he is not the only one who knows of the map's existence, and his bravery and cunning are tested to the full when, with his friends Squire Trelawney and Dr Livesey, he sets sail in the Hispaniola to track down the treasure. With its swift-moving plot and memorably drawn characters - Blind Pew and Black Dog, the castaway Ben Gunn and the charming but dangerous Long John Silver - Stevenson's tale of pirates, treachery and heroism was an immediate success when it was first published in 1883 and has retained its place as one of the greatest of all adventure stories.
These hardbacks are cloth-bound, with matching coloured end papers, embossed gold and coloured blocking to enhance their beautiful, bespoke cover illustrations. Dimensions: 178 x 129mm.

Picture books have the ability to evoke the essence of childhood — to allow us to see the world through a child's eyes and to feel the world with a child's heart. We hope you enjoy creating your own book traditions and growing your child's library filled with beautiful books for the whole family to enjoy!