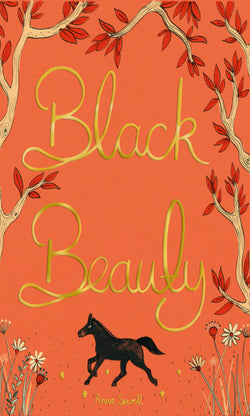 Login for wishist
Black Beauty by Anna Sewell.
The gentle thoroughbred, Black Beauty, is raised with care and is treated well until a vicious groom injures him. The damaged horse is then sold to various masters at whose hands he experiences cruelty and neglect. After many unpleasant episodes, including one where he becomes a painfully overworked cab horse in London, Black Beauty finally canters towards a happy ending. Although Anna Sewell's classic is set firmly in the Victorian period, its message is universal and timeless: animals will serve humans well if they are treated with consideration and kindness.

These hardbacks are cloth-bound, with matching coloured end papers, embossed gold and coloured blocking to enhance their beautiful, bespoke cover illustrations. Dimensions: 178 x 129mm.
Picture books have the ability to evoke the essence of childhood — to allow us to see the world through a child's eyes and to feel the world with a child's heart. We hope you enjoy creating your own book traditions and growing your child's library filled with beautiful books for the whole family to enjoy!