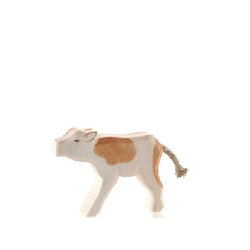 Login for wishist
This sweet cow from Ostheimer will certainly please your young farmer.
Ready to be transformed into a spring meadow or to hide in the barn for a winter storm.
Waldorf-inspired, Ostheimer wooden toys are hand-crafted specially for children to hold and play imaginatively with minimal edges, shapes and colours. They will be handed down and loved for generations.
Ostheimer toys are beautiful and tactile special toys to collect and cherish. All figures are hand-crafted in Germany. The wood used in Ostheimer toys comes from sustainable domestic forestry. Each product is a unique item individually shaped with love and care. Thus, the Ostheimer Waldorf toys allow children to immerse themselves in the vivid imaginative world of play.