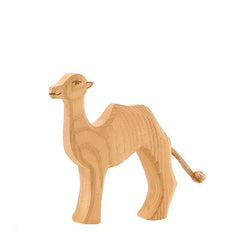 Login for wishist
A baby camel by Ostheimer.
The small camel by Ostheimer takes full advantage of the beauty of its wood, the unpainted surfaces incorporating the natural grain of the wood into its design.
Ostheimer toys are beautiful and tactile special toys to collect and cherish. All figures are hand-crafted in Germany. The wood used in Ostheimer toys comes from sustainable domestic forestry. Each product is a unique item individually shaped with love and care. Thus, the Ostheimer Waldorf toys allow children to immerse themselves into the vivid imaginative world of play.
Product Size: H 12,5 cm