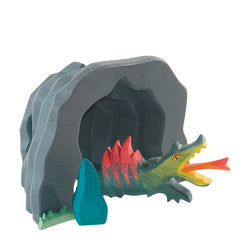 Login for wishist
The Ostheimer/ Kinderkram Dragon's Cave is a solid timber open dwelling, where the awesome dragon can stow his treasure, or perhaps the Ostheimer bear family would like to live there?
A beautiful addition to the imaginary play, a place for animals to shelter and stories to be told.
Measurements: 25cm x 24 cm x 20 cm
Ostheimer are beautiful handcrafted wooden figures individually carved and painted by, giving every figure a unique character. These timeless wooden toys for children are then dipped in all-natural walnut oil, giving them a soft and tactile finish that's pleasing to hold. Made from native German hardwoods such as maple, elm and ash.
Treated with non-toxic walnut oil or shellac finish.