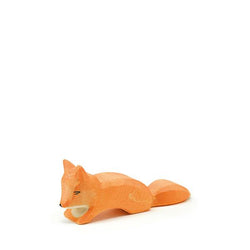 Login for wishist
A small wooden fox creeping figurine by Ostheimer.
This beautiful hand crafted small wooden fox from Ostheimer will enjoy many adventures in your little one's hands! Arriving to your home already running, this little guy loves adventures in the forests, on the sofa and across the kitchen table.
Ostheimer toys are beautiful and tactile special toys to collect and cherish. All figures are hand-crafted in Germany. The wood used in Ostheimer toys comes from sustainable domestic forestry. Each product is a unique item individually shaped with love and care. Thus, the Ostheimer Waldorf toys allow children to immerse themselves into the vivid imaginative world of play.
Product size: L. 10 cm and H. 3.5 cm