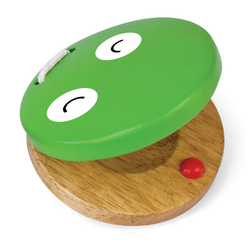 Login for wishist
One-piece wood body is easy to hold with smooth, curved edges. Solid wood clappers provide rhythmic foundations that stimulate musical creativity. The simple artwork on the face will appeal and engage.
Green Tones is an award-winning brand that is committed to developing age-appropriate, eco-friendly, and safe wooden musical instruments to stimulate cognitive abilities in children.
The Green Tones brand was founded by the Honer company to continue its 160+ year heritage of making musical instruments in order to focus specifically on the needs of children.
Designed in the U.S.A. | Made in India