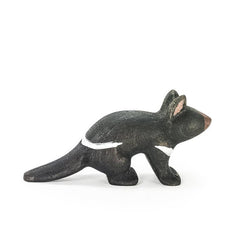 Login for wishist
gorgeous handmade wooden tasmanian devil by mr fox crafts.
these wooden animals are realistic, artistic and open-ended. each animal is exquisitely carved, with its own unique character. with an incredible collection of different animals to choose from, they make the perfect heirloom gift for any child. perfect for play and décor.
each piece is produced from responsibly sourced beechwood, water-based paint and varnished with organic linseed oil. each figure varies in size, ranging between 5-10cms. they are ce certified and recommended for children 3+.
mr fox crafts is created by two friends, elitsa and lydia in their workshop in south bulgaria. they believe that children deserve all the joy, meaning and beauty they can get whilst playing or learning. we are excited to be the exclusive aus/nz stocklist of these beautiful wooden animals.