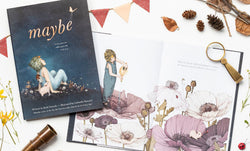 Books
Book Subscription October
Login for wishist
Picture books have the ability to evoke the essence of childhood — to allow us to see the world through a child's eyes and to feel the world with a child's heart.
Our monthly book subscription helps you create your own book traditions and grow your child's library filled with beautiful books for your whole family to enjoy.
There will be two hardcover books ranging from $25-$35 with shipping included. Books will be delivered in the first week of October. 
The theme for this month is WONDER.
For ages 2-6 years. Or anyone who enjoys beautiful picture books!!! 
Note: This is our first pilot month and this is not a recurring monthly package. We will contact book subscribers for subsequent month book packages.  
Image represents the types of picture books that will be available as part of the subscription package.