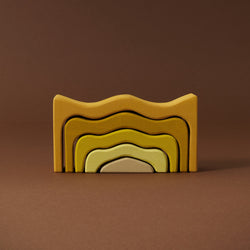 Login for wishist
Crown arch stacker from Raduga Grëz.
Inspired by the crown symbol from paintings by the American artist Basquiat.
The Diversity collection is about peace and equality. We may have different skin colour, eye shape, hair & faith, but we all have blood running inside us, our hearts beat the same, we breathe the same air and we live on the same planet. Therefore it's in our hands to make the world a better place. The Diversity collection celebrates that all skin colour is beautiful.
Ages: 3yrs +
Dimensions: 16×11×4  cm
Materials: Lime wood, non-toxic water-based wood stain
Care: Use a damp cloth to wipe clean
Origin: Russia
Safety: CE certified
Raduga Grëz, translates to 'Rainbow Dreams'. It is a family owned company based in Russia that designs and manufactures heirloom quality toys inspired by the forest, sea, sky, sun and world around them. Each toy is handcrafted from sustainably sourced solid wood and natural water-based paints.