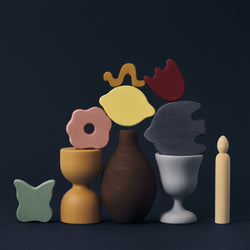 Login for wishist
Vanitas building blocks from Raduga Grëz.
Building block Vanitas inspired by 17th century still life. A candle is a symbol of life, a butterfly is beauty & fragility, a glass & a jug are the fullness of life and a sandglass is a reminder about the time that we have. This block set can not be used to build houses or towers, but it can be used to express emotions and talk about beauty, life and the things that are worth celebrating every day.  
Ages: 3yrs +
Dimensions: 26.5×18.5×9.5 cm
Materials: Lime wood, non-toxic water-based wood stain
Care: Use a damp cloth to wipe clean
Origin: Russia
Safety: CE certified
Raduga Grëz, translates to 'Rainbow Dreams'. It is a family owned company based in Russia that designs and manufactures heirloom quality toys inspired by the forest, sea, sky, sun and world around them. Each toy is handcrafted from sustainably sourced solid wood and natural water-based paints.