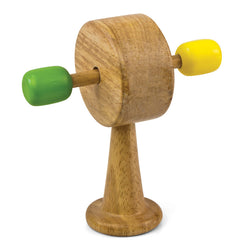 Login for wishist
13cm shaker with piston blocks that add a unique percussive sound when shaking. Also with a smooth easy-grip handle. It provides soothing shaker sound to enhance rhythmic foundations that stimulate musical creativity. All wood construction made from environmentally friendly Rubberwood with a non-toxic clear coat finish and water-based VOC free paint.
Green Tones is an award-winning brand that is committed to developing age-appropriate, eco-friendly, and safe wooden musical instruments to stimulate cognitive abilities in children.
The Green Tones brand was founded by the Honer company to continue its 160+ year heritage of making musical instruments in order to focus specifically on the needs of children.
Designed in the U.S.A. | Made in India