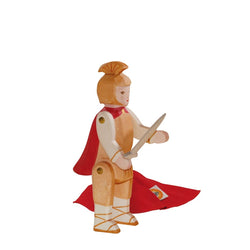 Login for wishist
St Martin with sword and coat by Ostheimer.
Ostheimer are beautiful handcrafted wooden figures individually carved and painted by, giving every figure a unique character. These timeless wooden toys for children are then dipped in all-natural walnut oil, giving them a soft and tactile finish that's pleasing to hold. Made from native German hardwoods such as maple, elm and ash.
Treated with non-toxic walnut oil or shellac finish.