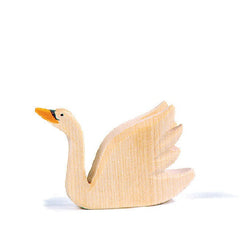 Login for wishist
An Ostheimer swan swimming with head high and wings out.
Recommendation age: 3+
This hand-carved and hand-painted figure is made using German natural hardwoods such as maple, elm and ash wood and nontoxic colours. Size: Height 6.5 cm
Ostheimer animals are beautiful handcrafted wooden figures individually carved and painted by hand, giving every figure a unique character. These timeless wooden toys for children are then dipped in all-natural walnut oil, giving them a soft and tactile finish that is pleasing to hold.
Ostheimer wooden toys have been loved by children for over 70 years. Each Ostheimer wooden figure is made from local sustainable hardwood, painted with safe transparent paint and finished in organic oil to ensure a connection with nature and respect for the environment.